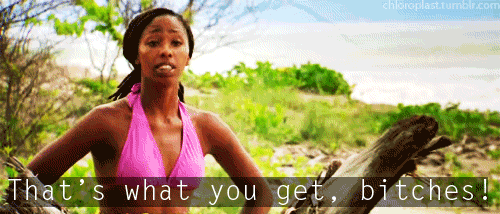 The Funny 115 Guestbook
12:47am 05-31-2017

Mario

By the way, for anyone who is curious, yes of course I am still writing new entries. I just took a week off because of the finale and because that was all anyone was going to talk about. In a few more days I will have my #73 Keith and Wes entry up.
5:17am 05-30-2017

Luke

Although I didn't watch much of the season, I can't help but agree with what you said. Just by reading the updates, it seemed the abundance of idols and advantages wouldn't end well, and it all culminated in a plot thread you'd expect more in the Total Drama series from Cartoon Network rather than real life. I like that Sarah won despite the uphill battle she had to endure, but this whole season felt so manipulative, or at least, more so than previous seasons.
11:27pm 05-29-2017

Andrew

Well I kinda say Game Changer is a so-so for me as after the merge there's kinda no ''favorite castaways' since majority of the got voted out including Sandra and Michaela and some that I don't like the remaining cast such as Brad and Troyzan (no biased involved though). I do like Cirie but sad she got outplayed by the idols and legacy thing.

At least it's not as worse as the two seasons where Phillip Sheppard was in.
12:48am 05-29-2017

Mario

I believe that is word for word what he said.
8:01am 05-28-2017

goodshotgreen

Another missing word is in the John Rocker entry.

Man, that's my favorite team, everybody watches the Atlanta.

Unless that's what Wes actually said.
3:09pm 05-26-2017

Tim

I agree with everything you just said, Mario. Game Changers is the first season I stopped watching partway through because I just couldn't care about more than one person come merge time (that being Cirie). It's a shame she got screwed over like that, but at the same time, the producers only have themselves to blame.

That said, Sarah did a really good job, much better than I thought she would.
2:21pm 05-26-2017

Mario

Sarah was a pretty good winner but unfortunately she will be remembered as a good winner in a shitty season. It's not really her fault, she was a victim of the season being screwed up by the producers too.
2:20pm 05-26-2017

Mario

I thought Game Changers was a soulless producer-interfering piece of crap and the Cirie exit was a perfect ending for a season like that. The producers got what they deserved for being all idol and advantage happy.

And thanks for the missing word feedback, I just went in and fixed it.
9:23am 05-26-2017

goodshotgreen

Love the Dawson entry (and love Dawson). To stay in the game maybe she should've done the opposite and talk about how hot and awesome ballplayers are. Oh well.

BTW,
OMG I cannot believe you just number two about Bruce!
seems to be missing a word.
2:24pm 05-25-2017

Luke

Hey Mario, now that Game Changers is finished, I was wondering, what did you think of the season, the winner, and most of all, Cirie's "no vote" exit?
12:02pm 05-17-2017

Andrew

You brought back the Penner Picture from Version 2.0!!!!!!!!!
9:12pm 05-16-2017

Kenny B

I can only sum up that last entry in about 5 words.



Ha ha ha ha haaaaaaa
3:43am 05-15-2017

Andy

Couldn't agree more. I feel like every time they do returning players it gets worse and worse from the crap that was Caramoan to Cambodia which was even worse, and now onto this which is probably the worst yet. And that audience that likes Survicor like this is because they've never seen the show when it was great back in the early days and they don't understand how much better it could be.
10:44pm 05-14-2017

Mario

It's crap. And the fact that this is what the audience wants Survivor to be is even bigger crap.
12:27pm 05-14-2017

Andy

What are your thoughts on Game Changers so far? I honestly can't stand it, it's one of my least favorite seasons (especially since Sandra went home). Before Sandra went it was ok, but since then it's been brutal.