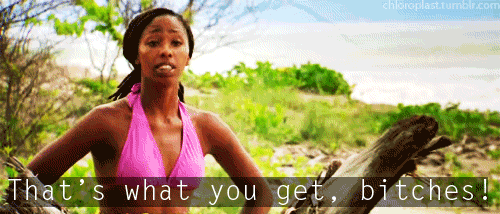 The Funny 115 Guestbook
8:35am 02-25-2020

Deric Foreal

I'm with you Mario .cbs seemed to want a me too moment.spilo even looks like harvey Weinstein
1:06pm 02-21-2020

Mario

Survivor made that Dan incident happen, if Richard isn't there now they have no one to blame but themselves. So I have no sympathy for them.
10:36pm 02-20-2020

Tim

To be somewhat fair, Richard Hatch is probably a bad call, considering the whole Sue incident, given what happened last season with Bad Touch Dan. I do wish Tina would have come back, and I don't think it's a coincidence that of the three people voted out thus far, two of them were old school players.
3:41pm 02-19-2020

Morgan Behind

Yeah Fabio should have come back. Or just called! Richard Hatch and Tina Wesson also. WAW is heavily skewed towards new school players and gamebots
5:58pm 02-16-2020

Mario

My thoughts on the WAW premiere are that it was fun at first, but it really tailed off in the second half because it's all just strategy strategy strategy and everything moves too fast to be a satisfying narrative. And it's only going to get worse once the twists and the advantages all take over. Also, most of the really interesting and important winners weren't even invited to participate so this season doesn't really mean all that much in terms of Survivor history.
4:42pm 02-16-2020

Deric Foreal

I hope the winners in the jury refuse to vote for someone who has gone to Edge. Jeremy has already said this thank God. Also I think the 2 ppl that have the most tokens will be the ones who get back in the game.
12:57pm 02-15-2020

Ryan

It'd also be funny if Probst still pushes the "Parvati is a flirt" narrative considering she's now married with a baby.
12:55pm 02-15-2020

Ryan

The fact the Sandra is NOT the first contestant voted off every time she plays, is really a testament to how great of a player she really is. Also, I'm convinced Probst puts in every contestants' contracts that Boston Rob and Parvati are not eligible to be voted off until specified dates in the game (probably Day 36).
10:25am 02-14-2020

!!

Thoughts on the WaW premiere, Mario?
2:55pm 02-13-2020

Mario

I already know most of the stuff Richard has been saying, most of it is pretty common knowledge if you know any insider stuff. But yeah Probst has always been a tool, and the show has always been especially nasty behind the scenes. I'm glad more people are starting to hear about this stuff.
8:08am 02-11-2020

Nedarb

Hey Mario, have you come across Richard Hatch's youtube channel? I wish I had seen Borneo when it was on. The guy just has charisma and a way with words. Turns out that it's not so wonderful behind the scenes, and Jeff Probst is a tool
2:44pm 02-03-2020

Deric Foreal

Hey Mario I found out about your 115 cause I love Dave Ball .Danger was my #1 player and thru Google I found your site. Well I'm glad to say you converted me to Chris Daughtery. I read your write ups and I watched Vanuatu again he's the Best hands down. Thanks and keep up the good work. Ps hidden gem from season 10 you missed .Katie and cobys sock puppet theater making fun of James Steph and Bobby
9:46pm 02-02-2020

Mario

Yes he would attribute everything to Boston Rob. He'd probably also find some way to give Parvati credit for it as well. As far as Probst is concerned, Boston Rob, Parvati, and Cochran are like the only three great players in Survivor history.
6:53pm 01-31-2020

Ryan

Do you think if Probst looked back on Marquesas, would he attribute the fall of the Zoe Friendship, to Sean, Kathy and Co., or to Boston Rob seeds planted before he left the game? And is it just me, or does it seem that this Winner of War season seem favorable again to Boston Rob, with the Edge of Extinction safety net, plus Ambah playing as well?
2:26am 01-27-2020

Mario

Thank you Alexis! Glad you J'tenjoyed it!