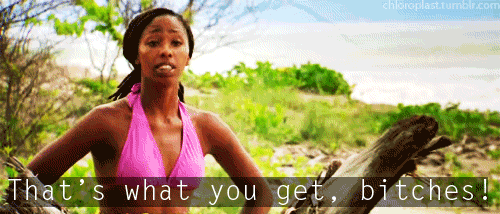 The Funny 115 Guestbook
8:18pm 03-31-2020

goodshotgreen

Before the Yul vote, going back to Tyson, there were four Villains voted out consecutively. How about that.
11:02pm 03-30-2020

Luke Liebert

Mario, I am a massive survivor fan and discovered your site for the first time about 6 months ago. I have binge read each funny 115 and have just started Survivor Historians (I'm on the 3rd episode of Amazon) and it is awesome! I've already read when it was worth playing for and I just wanna say YOU ARE AWESOME!!!
PS I have never laughed so hard in my life then when I read Randy's character entry. You are hilarious. Thanks for all the laughs! =)
9:56am 03-30-2020

Fool

It's me, my name is fool. (NOT NaOnka!)
3:35pm 03-29-2020

Deric Foreal

I just got around to reading it. It's great. Thanks for awesome articles during this crazy time.gotta laugh
5:21pm 03-23-2020

Mario

I already have an entry dedicated to Wes and his dad. That's good enough.
7:18am 03-18-2020

Deric Foreal

Yes Mario thanks for the distraction. Even tho I've never done social media. Don't get it .never have never will. What I want to know is are you gona have a character bio for wes nale? Anyone who looks like a pumpkin frog needs 1!!!
12:04pm 03-14-2020

Mario

You're welcome! And you have no idea how happy that makes me. That's the whole reason I do things like this, to make peoples' days better. Enjoy the read. Sorry that I wasn't as funny on version 1 yet, it was a long time ago.
2:48pm 03-13-2020

John

I just set a goal for myself. Rather than check depressing twitter during the coronavirus outbreak everytime I want to look at my phone I'm going to read the funny115.

From colbys hat - present.

Thanks Mario for the distraction.
9:18am 03-11-2020

Mario

Nope. It's just a five second scene. #1's have to be more epic with more for me to add.
4:21pm 03-09-2020

Nedarb

What?! Tony speaking llama is not your number 1?!
4:35pm 03-07-2020

Matt

Love the Not another Team Movie/Katie stuff
Its one of my favorite comedy movies.
"Katie Rules"
1:34pm 03-07-2020

Mario

Ha, that's a good point. I never thought about that.
5:27am 03-07-2020

!!

Mario, I don't know if you would put this in your Katie Collins entry, but my theory is that as long as you are Tina Wesson's closest ally you will randomly acquire new, extremely goofy, clothing items throughout the game that appear randomly with no backstory. Katie's glasses are only the Version 2.0 of Colby's hat
2:46am 02-27-2020

Matt

Who would be in survivor: Probsts crush season?
9:16am 02-25-2020

Jack

I imagine you've probably had it reccomend 1000 times and you're sick of hearing about it, but Survivor SA: Phillipines is basically what would happen if you simulated Amazon over and over until Roger won the game completely on accident.