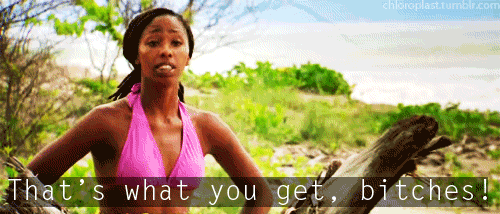 The Funny 115 Guestbook
9:39am 04-18-2021

Russell Hantz

I'M THE GREATEST!! NO ONE HAS EVER PLAYED SURVIVOR BETTER THAN I HAVE!! I'M #1!!
10:53am 04-16-2021

Mario

I specifically design the entries to catch you off guard and make you laugh out loud at something you weren't expecting. So good luck.
7:07am 04-16-2021

Rhett

I'm ignoring my chem class to reread this. Stop being funny, It's taking me everything not to laugh my butt off in chem
9:48am 04-13-2021

Steven

WOW. The fans of reality TV are the absolute worst. Ill refrain from insulting the wife ( I want too) but I'd like to hear her side of the story. I hope Dan was able to move on and find a more faithful partner.
7:17am 04-12-2021

Mario

Even the strongest can crack sometimes
3:52pm 04-09-2021

Hobbs

On Amber's "oh my God" entry, she does say oh my God in episode 11, on the reward with Rupert and jenna. Albeit it was in tandem with jenna.
7:09am 04-09-2021

Mario

Yes it's true. I didn't mention it in the writeup because I thought it was too personal, but they got divorced eventually. And a few of the WA castmembers blame the show for why it happened, specifically the edit Dan got, and the behavior of the fans who harassed his wife about it. This is one of the main reasons I wanted to write the entry.
10:43pm 04-07-2021

Steven

Hey mario. I read on reddit recently that Dan Foleys wife divorced him after the show. https://www.reddit.com/r/survivor/comments/ml4s8i/could_only_recognize_him_when_he_started_talking/

That's the tread I'm referring to. Any truth to this?
12:05am 04-03-2021

Jésus

Maybe for a v4 you could do moments you missed out on in past seasons as well as what's left in seasons from the past 6 or so years. Like the way Lisa's brother says "siiisteeerrrr" in Phillippines.
10:39am 03-24-2021

Coach Wade

At the dawn of every morning, hope springs eternal.
9:16am 03-24-2021

Keith Nalwe

*spits* Wesley's a good sonofagun; he ain't been to jail yet. Boy does have a nugget eatin problem though
7:43am 03-24-2021

Coach Wade

"I am so true that existing around people that smile evilly when somebody else is on their knees kills me."
3:35pm 03-23-2021

Wes Nale

I once ate 58 chicken nuggets in 5 minutes when we had that eating contest the one time.
1:35pm 03-23-2021

Probst

I still can't believe that girl beat both you and Ozzy.
12:08pm 03-23-2021

Coach Wade

"As iron sharpens iron, so too does one man sharpen another."