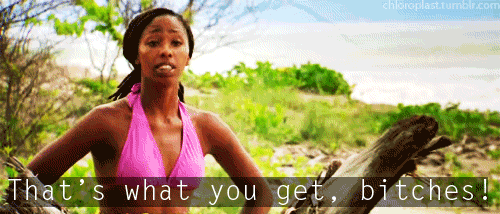 The Funny 115 Guestbook
3:36pm 05-01-2021

Jesse

Hey Mario! What did you think of Adam and the podium in WAW? Do you think it's top ten worthy? The set-up with him talking to michelle and she doesn't give a shit, The whole tribal was just a ben vs adam clown-off and the ultimate payoff with his attempt to grab an "idol" from the podium. Does it get any better than this?
11:23am 04-28-2021

bOb

Ok so mario- million dollar question (I hope they don't see this because who knows what they will do): What are your thoughts of the ever so sensitive /r survivor mods on reddit?
9:53pm 04-21-2021

yr mom

okay i know i'm 14 years late but i can't believe you didn't point out another random and bizarre part in the dead grandma lie challenge where Tijauna's loved one isn't even her best friend, but her, and i quote, "high school sweetheart and still good friend." i swear her list of loved ones must've been short as hell
5:56pm 04-20-2021

Marcus Aurelius

Some of the greatest inspiration was born out of desperation
1:10pm 04-19-2021

Coach Wade

Hey Russell, as iron sharpens iron, so too does one man sharpen another.
7:15am 04-19-2021

Natalie White

The greatest to ever play? Mah werd.
5:42pm 04-18-2021

Sandra Diaz-Twine

Who taught that bitch to use a computer today?
9:39am 04-18-2021

Russell Hantz

I'M THE GREATEST!! NO ONE HAS EVER PLAYED SURVIVOR BETTER THAN I HAVE!! I'M #1!!
10:53am 04-16-2021

Mario

I specifically design the entries to catch you off guard and make you laugh out loud at something you weren't expecting. So good luck.
7:07am 04-16-2021

Rhett

I'm ignoring my chem class to reread this. Stop being funny, It's taking me everything not to laugh my butt off in chem
9:48am 04-13-2021

Steven

WOW. The fans of reality TV are the absolute worst. Ill refrain from insulting the wife ( I want too) but I'd like to hear her side of the story. I hope Dan was able to move on and find a more faithful partner.
7:17am 04-12-2021

Mario

Even the strongest can crack sometimes
3:52pm 04-09-2021

Hobbs

On Amber's "oh my God" entry, she does say oh my God in episode 11, on the reward with Rupert and jenna. Albeit it was in tandem with jenna.
7:09am 04-09-2021

Mario

Yes it's true. I didn't mention it in the writeup because I thought it was too personal, but they got divorced eventually. And a few of the WA castmembers blame the show for why it happened, specifically the edit Dan got, and the behavior of the fans who harassed his wife about it. This is one of the main reasons I wanted to write the entry.
10:43pm 04-07-2021

Steven

Hey mario. I read on reddit recently that Dan Foleys wife divorced him after the show. https://www.reddit.com/r/survivor/comments/ml4s8i/could_only_recognize_him_when_he_started_talking/

That's the tread I'm referring to. Any truth to this?