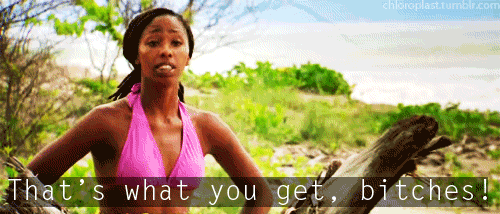 The Funny 115 Guestbook
11:46am 05-20-2020

Mario

That's a question with so many different answers, who knows. Season 10 is a good guess but Exile Island and Cook Islands are where it started to get silly with the gimmicks. But then they rallied for a couple of pretty old school seasons like China and Tocantins. I would say nothing once Russell showed up, for sure, but your mileage will vary based on your answer before that. I do know that Palau was the last season I was really 100% invested in. Guatemala was where it first started to show its age.
11:10pm 05-19-2020

Deric Foreal

Mario. What do you consider to be the last true season of survivor? I'm guessing you would say season 10.
1:03pm 05-19-2020

Mario

Oh wow, I didn't realize I never updated that. I'll add a new banner pretty soon. As it stands now, it's 1.1 million for the first one, 1.4 million for version two, and 1.3 million for the third one. At the end of the day, version 3 will be the one that everyone remembers.
6:49pm 05-17-2020

NMG

Hey Mario! You have a banner from 2011 celebrating 300,000 visitors. Can you do an updated one for 2020? I wanna know how many people have been on this website...
Thanks!
2:44pm 05-15-2020

Mario

Daugherty is my favorite winner but I'll always believe Heidik was too good at the game, and that's why you'll never seen him again. The producers never liked him because he was too hardcore for them. They want to give off the image that this is a family show.

And Eric, no. You want bitter feelings at the end. If you don't have that, it didn't mean much to anyone. Also most of the really important winners weren't even invited. I will never consider this an important season in the canon. It was a joke.
6:14pm 05-14-2020

Eric

Mario - curious if you would agree with saying that Winners at War is what you wanted out of All Stars (advantaged, edge, fire tokens, aside)

A fun season of legends who played the game hard but harbored no bitter feelings towards anyone at the end. No one legacies we're damaged, but some (Tony, Michele, sara, etc...) we're improved.
4:26pm 05-14-2020

Deric Foreal

P.s. I always thought you thought Daugherty was the best player. I'm still going with Tony as king. But Daughtery played the best single game.
4:22pm 05-14-2020

Deric Foreal

Mario anyway they'll let Hiedik come back?
11:53am 05-14-2020

Luke

Fair enough. I agree thoroughly with the first half of your comment. Hope you all are safe and healthy!
11:40am 05-14-2020

Mario

I don't really consider this to be Survivor anymore, so I don't have many thoughts about it. I like Tony, and I'm happy for him, but Brian Heidik is still the greatest player of all time.
10:29am 05-14-2020

Deric Foreal

In the end it was great. But if nat won Uggh.imagine if say the saints who lost in the 1st round were allowed to come back and play in the Super Bowl with a 7-0 lead .thats what edge is. Happy 4 Tony the true king of survivor .but dam the producers tried to F up there super bowl.
8:09am 05-14-2020

Luke

So, now that the season's over, do you have any opinions about our winner? I'll admit I lost interest halfway through, but I'm interested in what you have to say.
4:09pm 05-06-2020

Mario

Except when Brian does it, maybe.
8:21am 05-06-2020

Molly

Watching Thailand for the first time so I'm reading the related entries. This sentence in moment #41 stood out to me: "Most reports say that Brian was asleep on the couch, drunk, when he was supposed to be babysitting."

It's not called babysitting if it's your own damn kid, it's called parenting.
5:56pm 05-01-2020

!!

MINOR SPOILER:
I love that the Tony popped himself entry came full circle with a bird pooping on Tony in last night's episode