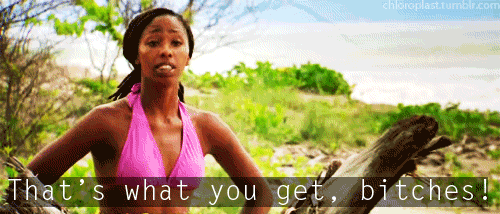 The Funny 115 Guestbook
9:20pm 07-16-2020

ScrewJohnHe'sAnAss

Having nothing better to do than criticize this dude on his own website ain't the best look either
7:24pm 07-16-2020

John

Promoting somebody's instagram who frequently posts about how coronavirus and BLM are conspiracies to cover up democratic pedophilia (trust me, I know it doesn't make sense but that's his arg) is not the best look
11:55am 07-10-2020

LJ

Something funny I noticed is that in the China intro Courtney's shot is her grinning while ripping a plant in half. Did anyone else notice this?
10:26am 07-10-2020

Mario

Hopefully the next one will be up this weekend. I've been waiting Rodney to send me some videos for it so it's been more on his time than mine.
11:09am 07-07-2020

insert-a-name-here

i don't mean to bother you, but will the next entries be done soon?
5:00pm 07-06-2020

Amber

I love how when Billy proclaims his love for Candice, Jeff goes, "Candice, from the raro tribe?" Except he's so flustered that he pronounced "Raro" more like "Rurro"
It makes me laugh every time
2:09pm 07-06-2020

Kayla

Oh my god I'm so excited now
12:49pm 07-04-2020

Mario

You got it
9:14am 07-04-2020

Name

Sophie character entry??
4:31pm 07-01-2020

Mario

Yes but it's part of a much bigger Sophie entry.
10:28am 07-01-2020

Kayla

I don't know if you can tell me this, but is Sophie's FTC speech one of the remaining entries?
9:37pm 06-29-2020

Mario

Ross, thank you! I always had fun with those Exile Island episodes. And it kinda surprised me, because I never used to even like that season all that much. Historians kind of turned me around on it. And yes I am proud to take credit for the whole running smasher/not a smasher gag. The Bruce stuff after that was just the pooping on the cake.
4:47pm 06-29-2020

Ella

Hi Mario! I love the funny 115 and also I just read the Amanda's run entry and I thought i was the only one who actually thought it was funny . Are you making a funny 115 part 4? If you do I have 2 suggestions. 1. You should make the cover in the index michele's Jim Halpert face from WaW. 2. You know when Debbie is juggling in Kaoh Rong? She say you either have great hand I coordination or you don't. Then peter asked her how it was and she said "I have.. pretty... good". Which is pretty much in the middle of great and bad. So she basically contradicted Herself and proved that her great or bad hand eye coordination theory is not factual. I just thought it was really funny and I hope you noticed it!
11:26pm 06-28-2020

Ross

Love Historians. I think the best ones you did was on "Exile Island". I don't know why because "Exile Island" is not even close to being my personal favorite season. "Pooper/Not a Pooper" may be my favorite Historians episode out of all of them. I laughed the most with it and you guys seemed to have the most fun doing it.
9:19pm 06-28-2020

Mario

Phil, you're pretty close. But my ranking would probably be this:

Worlds Apart
South Pacific
Blood vs water
Nicaragua
Cagayan
Philippines
San Juan Del Sur
Redemption Island
Caramoan
One world