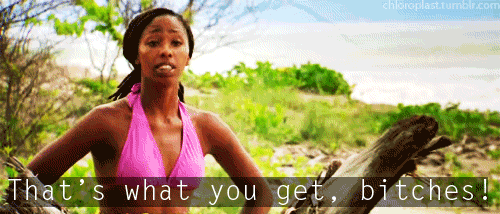 The Funny 115 Guestbook
10:25am 02-14-2020

!!

Thoughts on the WaW premiere, Mario?
2:55pm 02-13-2020

Mario

I already know most of the stuff Richard has been saying, most of it is pretty common knowledge if you know any insider stuff. But yeah Probst has always been a tool, and the show has always been especially nasty behind the scenes. I'm glad more people are starting to hear about this stuff.
8:08am 02-11-2020

Nedarb

Hey Mario, have you come across Richard Hatch's youtube channel? I wish I had seen Borneo when it was on. The guy just has charisma and a way with words. Turns out that it's not so wonderful behind the scenes, and Jeff Probst is a tool
2:44pm 02-03-2020

Deric Foreal

Hey Mario I found out about your 115 cause I love Dave Ball .Danger was my #1 player and thru Google I found your site. Well I'm glad to say you converted me to Chris Daughtery. I read your write ups and I watched Vanuatu again he's the Best hands down. Thanks and keep up the good work. Ps hidden gem from season 10 you missed .Katie and cobys sock puppet theater making fun of James Steph and Bobby
9:46pm 02-02-2020

Mario

Yes he would attribute everything to Boston Rob. He'd probably also find some way to give Parvati credit for it as well. As far as Probst is concerned, Boston Rob, Parvati, and Cochran are like the only three great players in Survivor history.
6:53pm 01-31-2020

Ryan

Do you think if Probst looked back on Marquesas, would he attribute the fall of the Zoe Friendship, to Sean, Kathy and Co., or to Boston Rob seeds planted before he left the game? And is it just me, or does it seem that this Winner of War season seem favorable again to Boston Rob, with the Edge of Extinction safety net, plus Ambah playing as well?
2:26am 01-27-2020

Mario

Thank you Alexis! Glad you J'tenjoyed it!
2:26am 01-27-2020

Mario

Thank you Andy! Although you should also listen to the episode of Staff Picks I did about White Men Can't Jump about a year ago. You can find it at staffpicks.podbean.com. I think it is one of my better episodes.
2:33am 01-26-2020

Andy

Came across your review of White Men Can't Jump and wanted to thank you for the eloquent review of my favourite movie of all time.

At the same time, I'm glad it's not as popular as it deserves - it makes it mine (ours).
9:47am 01-24-2020

Alexis

Hi, just wanted to say i adore the funny 115! Especially your write up about underrated queen Angie and her cookies <3, can't WAIT for the second Stacey entry, love it! Also the J'tia bits in the Kass entry, J'trying is slowly entering my vocabulary. Thank you for creating it in the first place! (Also in the Tony entry the audio of him making the orgasm sound was kinda hot lol).
9:47pm 01-22-2020

Bill Brennan

Mario I don't know if you noticed but in gen x vs mil the black lady can't remember her name.anyways she always calls the milliniels the millennium tribe.
2:21pm 01-15-2020

Kat's Panties

I just have to say: Thank god for Kat! Thank god that she was put on an otherwise snore-fest of a season. She might have slunk into the background, and we'd never know that she was even there!
11:04pm 01-12-2020

Tim

Jenn was almost inspiring in how little she cared about what anyone thought about her.

Scratch that, she was inspiring. She could be getting roasted by the best Survivor roasters, and her expression wouldn't even change. It takes some serious doses of Fuckitol to reach Jenn Brown levels.
1:30am 01-12-2020

Mario

I won't be sad, personally, because I think v3 is the best version I could ever possibly do. And 31-40 would give me almost nothing to work with, so it would just be a lesson in futility. It would take a small act of god to get me to commit to doing a fourth one at this point. I'd rather get back to writing books after this one ends.
2:25pm 01-11-2020

Survivor Guy

Are you going to be sad when the Funny 115 ends? Unless of course you create a spin-off Funny 15 for Season 31-40. There is hope for S40 to be funny, but ever since Ciera's #bigmoves battle cry, it wouldn't surprise me if the season just becomes a game of one-up.

Maybe the only way for a F115 v4 to happen is if the producers just gives everyone shrooms